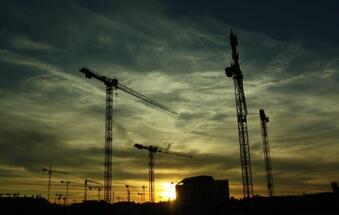 Uncertainty related to interest rates and general economic trends is beginning to be felt here as well, writes Večernji list on Wednesday.
The strong growth in residential real estate prices is finally under pressure at the global level, and significant price corrections are expected in most of the world's cities in the coming quarters, stated Matthias Holzhey, the main author of the Swiss UBS Bank real estate price study.
Analysts of that bank have been publishing the so-called real estate bubble index for years, that is, they recalculate how much real estate is overvalued in relation to other economic trends.
The analysis shows that this year the greatest overvaluation of the real estate market is present in Toronto and Frankfurt, and the bubbles are about to burst in Zurich, Munich, Amsterdam...
Zagreb was not the subject of the Swiss bankers' analysis, and if it had been, our capital city would have been near the top in terms of price movements in the last year. In the first part of the year, square meters in Zagreb rose in price by 31 percent on an annual basis, and by 21 percent compared to the second half of 2021. As the average inflation in that period was around 8 percent, in real terms real estate prices rose 23 percent on an annual level above other consumer prices, and around 13 percent on a semi-annual basis.
UBS compared price movements in the first half of this year compared to the second half of 2021. In the city with the record for the jump in the price of residential square meters - Miami - this growth was about 18 percent, while the European record holder for the jump in the price of Amsterdam was in the plus by a little less than 10 percent. With around 13 percent, Zagreb had a faster price growth than Amsterdam.
Market experts say that there are many reasons: the supply of new apartments is lower than the demand, the city center is not yet so desirable due to the earthquake, so the pressure on newer settlements is increasing, apartments are bought not only for housing but also as an investment, in order to preserve the value capital, and state incentives also did their part. But events in other countries have an impact on us as well.
The nominal growth of real estate prices in the 25 analyzed cities accelerated to almost 10 percent, which is the highest growth rate since 2007, according to UBS.
What is currently happening with prices and sales in Croatia? Boro Vujović, director of Operetta, says that a certain slowdown can be observed in our country, but not a drop in prices. Real estate sales are lower than in the same period last year, that is, there are fewer closed sales, writes Večernji list journalist Ljubica Gatarić.
Source: SEEbiz / Večernji list