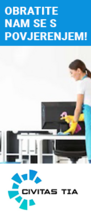 1. How long have you been in business and how many employees do you have?
We have been operating for a little over a year and we currently have 5 employees. We started our work in the most difficult period of the crisis, but even that did not stop us from continuing our efforts.
2. What services do you perform in terms of business premises?
We offer services
: Monthly, weekly daily office cleaning
Machine deep washing of furniture and carpets at your location
Machine floor washing
Washing glass surfaces
Sales of consumable office assortment

Sale of hygienic supplies
3. Can you tell us some of your references?
.Some of our references are the Croatian Chamber of Crafts, Croatian Chamber of Commerce, Eurofast Global d.o.o.
4. What is your mission and vision
The vision of our company is to develop knowledge and learning and through which year to provide our clients with facility management. Our main mission is the satisfaction of our customers.