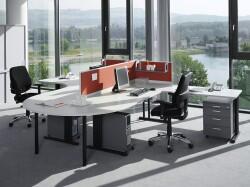 The State Office for State Property Management (DUUDI) has invited tenders for the lease of 37 commercial premises in Zagreb and one on the island of Korcula, which is open until July 30.
Offices that are offered in the loan are state owned, and lease agreements shall be concluded for a period of five years, except for the area on the island of Korcula, which is rented for three years.
Potential tenants in their offer must specify which activities to perform in the business area, and during the planning premises, in order to be rescinded on purpose, for a period of three months will not have to pay rent.
In Zagreb offer to lease commercial premises area from 11.55 to 293.19 square meters. Some of them are located in the city center (Ban Jelacic Square, Zvonimir, gunduliceva, Bob's, Ilic, Jurišićeva, Radic ...), but on the list, for example, and areas in the Spanish and Malešnici.
The initial monthly rent prices range from 565 kuna for the smallest area of 11.55 square meters in 3544 to Nemčićevoj street rate for ground floor, basement and gallery in the street Philip Grabovca.
Korcula is exclusively for business catering rented office space of 251 square meters on the terrace of the building of the port offices for a monthly allowance of 12,006 kuna.
Domosfera.hr