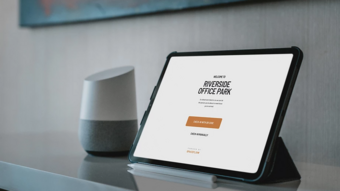 Today, Spaceflow is unveiling one of the new extensions that radically improves the occupier and guest experience: the visitor management system.
What it means is that you can forget paper logs and boost guest management processes through easy self-registration.
Our visitor management system allows you and your occupiers to take control of your guest management processes. Occupiers are now able to pre-register guests through the Spaceflow app, enable them to check-in securely in the reception area by scanning a QR code on a device, get alert notifications once guests arrive. Building operators can analyze visitor logs from the admin console.
What are the main benefits for each group?
Occupiers can
Streamline guests arrival at the building
Receive notifications and add event to Gmail/Outlook or any other calendar (.ics file)
Visitors can:
Receive email invitation (with information, QR code, calendar event) and enjoy having everything for the meeting ready at one place
Check in safely at the reception with an only very limited encounter with a concierge/receptionist
Landlords and property management can
Track visitors in the space via Spaceflow admin console
See all relevant data in real-time (guests invited, checking-in, on-site and those who left the site)
To successfully launch the visitor management system at your property, you will need:
Computer/laptop for concierge/receptionist with access to the web browser
Stable internet connection in the reception area (WiFi)
Apple iPad
Docker and cable lock for iPad
To introduce the visitor management system at your property, simply get in touch by sending us a message at [email protected]
This extension is available in Advanced and Premium plans.
Want to hear first about Spaceflow's new features? Subscribe to our newsletter.