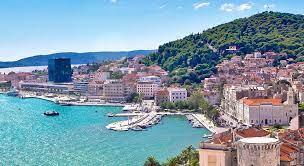 SPLIT is the third most expensive city in Europe in terms of real estate prices in terms of income - at least according to the Numbeo page, which presents itself as the world's largest database on the cost of living, as well as the quality of life.
Namely, the ratio of real estate prices and average income in Split is a high 20.3, according to the calculation of the Numbeo page founded by Mladen Adamović, a former Google software engineer from Serbia.
Only Moscow and Paris are more expensive than Split
Split is thus behind Moscow (ratio 21.12), which is in first place, and Paris (20.97), and ahead of Belgrade (19.77), Vladivostok (18.63), Gdansk (18.31), Prague (17.97) and Milan 17.85).
Moreover, Croatia has two cities among the 20 most expensive - Zadar is in 13th place, with a ratio of 16.41, ahead of St. Petersburg (16.34) and Munich (16.27). Interestingly, London, which has a reputation as a city with unbearably high housing prices, is only in 20th place, with a ratio of 15.65.
Zagreb in 33rd place, ahead of Madrid
Zagreb is much lower than the two largest Dalmatian cities - where the price is so high primarily due to tourism - but again quite high, in 33rd place out of a total of 192 larger European cities on this scale. With a ratio of 13.47, Zagreb is ahead of Skopje (13.46), Madrid (13.37) and Ljubljana (13.35).
In Split, according to the data of this specialized site, the price per square meter of an apartment in the city center averages HRK 25,403, and outside the city center HRK 18,694. Renting a one-bedroom apartment in the city center averages 3220 kn, and outside the center 2803 kn.
In Zagreb, the average price per square meter of an apartment in the city center is HRK 21,765, and outside the center HRK 14,791. The average rental price of a one-bedroom apartment is HRK 3,625, and HRK 2,762 outside the center.
On the other hand, according to the Central Bureau of Statistics (CBS), the average price of a square meter of a new apartment for sale in Zagreb was HRK 4,125 in the second half of 2020, not counting socially supported housing (POS) programs.
Of course, Split is relatively more expensive than Zagreb due to the drastic difference in the average net salary. While in Zagreb it is HRK 6,947, in Split it is HRK 5,395 - therefore, HRK 1,552 less, according to data from Numbe. Also, while the average fixed interest rate on a 20-year mortgage loan in Split is 4.54%, in Zagreb it is 3.37%.
In Zagreb, the price per square meter of an apartment goes up to 5 thousand euros, in Split up to 7
Recall, real estate prices continue to rise in Croatia, especially in Zagreb and on the coast, despite the pandemic, the corona crisis that caused a record decline in GDP and earthquakes in Zagreb and Banija. In Zagreb, the price of a square meter of an apartment ranges from two to five thousand euros. In Split, the price of a square meter of an apartment goes up to 6-7 thousand euros.
"We even have 6 to 7 thousand euros per square meter. The limit has long passed the limit of reasonable prices, but while there are buyers, prices do not fall. If we had stagnant sales, then those prices would fall," said Meri Vulic, Split real estate agent. , in January for HRT.
Real estate prices in Croatia grew more last year than in the EU
And according to a Eurostat report from January, in Croatia in the third quarter of 2020, ie before the second, autumn wave of the coronavirus epidemic, real estate prices continued to rise. Moreover, while residential real estate prices, measured by the Eurostat House Price Index (HPI), in the European Union increased on average by 5.2%, in Croatia they increased by 6.9%, compared to the same period in 2019.
It is also interesting that the price for sale in the last few years in the EU has increased significantly more than the rental price, although from 2011 to 2017 the trend was reversed, as seen in the above graph of Eurostat.
Nevertheless, residential real estate prices in Croatia decreased by 0.6% compared to the previous, second quarter of 2020, while in the EU they increased by 1.4%.
And the European Central Bank warned in its Financial Stability Report last November that prices in the eurozone were followed by a reality check, as the corona crisis took its toll and left more and more people jobless and reduced purchasing power.
Source: Index.hr