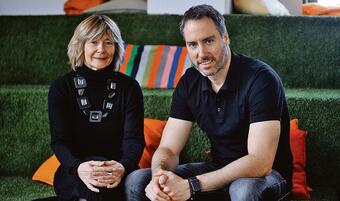 More than half a year has passed since German co-operating Rent24 invested in the domestic HUB 385, the Innovation Center and the co-working space at Tresnjevci, and thus took a 70 percent stake in the Nest01 Zagreb company that manages it. Zagreb and Berlin partners are now announcing that joint forces will embark on new investments and expansion of co-working and co-living in Croatia. This was confirmed by Robert Bukvić, owner Rent24 , originally Croatian and former professional basketball player and Ivana Šoljanco-founder of HUB 385 and pioneer co-working and co-living concept in Croatia. The concept is this, Bukvic says, where businesses share business space and employees living space, and for that trend, the trend for the next ten years will bring at least 30 percent of world companies.
What exactly is co-working and what are the benefits for a business that decides to do business in such areas?
Bukvic : - Before all the big world companies would build or buy their buildings, equip them, and then face huge cost of space maintenance that is really unnecessary. Today, the situation has changed - big companies want flexibility. They do not want to be in a situation of too little or too much space. They also want to attract young talents and will not attract them by locking them into the room. That's why in our area, like in Berlin, apart from desks and computers, for business we have restaurants, cinemas, swimming pools, fitness facilities. But all this for co-working is an essential factor and networking.
Šoljan : Companies in co-working spaces do not come only because their space is cheaper, but also because of the possibility of cooperation, mutual connectivity and exchange of knowledge with other companies in that area. We at Hub 385 currently have 80 companies and startups, and the perfect example of collaboration and networking is that a total of seven of our start-ups, including Include Ivana Mrvoša, Top Digital and Medvedgrad brewery, were funded through Funderbeams, who are also our tenants.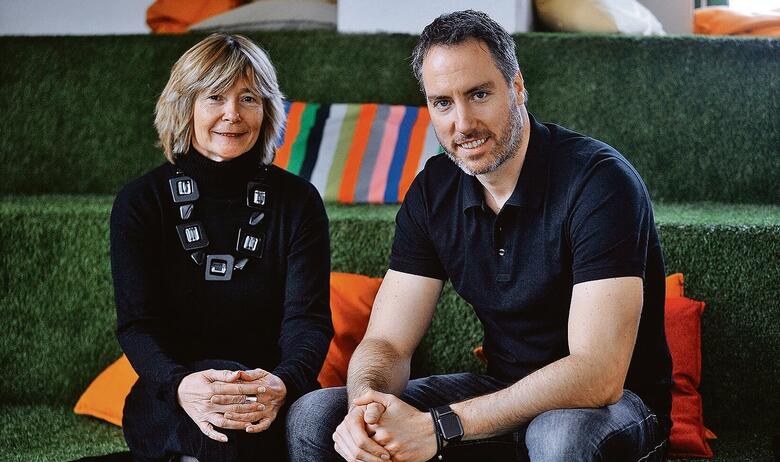 Unlike classic lease where companies rent space for a period of five to five years, the co-working space is monthly rented. Is this a more risky model for the charterer than the classic rental?
Šoljan : - We rent our premises even for the day and here, in the last half of the year, since Rent24 has entered the ownership structure, we have the situation that we are constantly full and we have to refuse our clients.
Bukvic : - The risk is even lower compared to long-term lease. For example, if the whole building is rented to one company and it goes away, then the entire space remains empty. If there are a lot of companies, and in the HUB 385 there are 80, then it is not a problem if one of them comes out of the lease.
Half a year ago Rent24 invested in HUB 385 and entered the ownership structure by taking a 70 percent stake in Nest01, which runs HUB. What has changed since?
Šoljan : - We as local founders have remained local management and the structure of our employees has remained the same, but the investment has provided us with funds for further investments in the space that we needed, but also new capacities.
What was the exact amount of investment?
Bukvić : She says too little, and I say too much.
Šoljan : "Sorry, we did not arrange a fixed amount, but it was an agreement to bring HUB 385 to the Rent-a24 space level in Berlin.
How do you plan to achieve it? What is in Berlin, and is missing in Zagreb?
Bukvic : - There is a lack of co-operation and co-living in Croatia, and we are working on this. We are moving to invest in a new co-working space at the location in the center of Zagreb. This is a space of more than three thousand square meters, but this is still in the phase of negotiations. Also, we will open for the needs of a co-living boutique hotel with 24 rooms that will be located in the old furniture factory at Victory Square. The investment is three million euros, and the hotel should open by December. The idea is that through our global Rent24 ecosystem, all of our overseas residents can live and work in Croatia, which means that both Croatian HUB 385 residents will be able to live and work in the Rent24 area around the world as part of our network.
Šoljan : Co-living is a concept that nobody has tried yet. But the principle is the same, as in the co-working of a business share business space, in co-living the tenants share the living space. What I think in Croatia is generally missing is the interest of people from outside to come to us. And I do not mean tourist but business. We are still quite closed to strangers, so there are situations that, for example, meet the employees of Mate Rimac. He hired developers from India and then stopped at the street and legitimized because they thought they were refugees. Zagreb should be internationalizing business, and this can be done through small advanced companies brought by foreign experts, freelancers, digital nomads.
Apart from the small startups in the Rent-a24 world, there were large corporations - Amazon, Tesla, Mercedes, BMW. Can we expect that in the future the big name of the world business will come to Zagreb's co-working space?
Bukvic : - We have more than 60 active locations in ten countries and on three continents. Our tenant in Moscow is Facebook, in Berlin Amazon. Of course, they are not the whole company, but their individual departments. However, it is important to know that such large companies have their own specific requirements. Amazon's development team, for example, requires continuous security checks. We recently concluded, among other things, a big deal in Berlin with Alliance Insurance and maybe bring some additional teams to Zagreb.
(source: novac.jutarnji.hr)