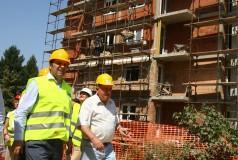 Although the government's original proposal envisaged that the law applies only to the illegal buildings constructed by 11 septembra 2009. year for which the application for legalization submitted by 11 marta 2010. year, however, lawmakers adopted an amendment that allows SPS legalization of buildings constructed after this period.
This means that all buildings constructed before the entry into force of the law can be legalized.
Moreover, lawmakers adopted an amendment Socialists, which provides that citizens have a deadline 90 days after the entry into force of the law to submit subsequent requests for legalization of such objects.
law was supported by the 123 deputies and 24 were against MPs.
Otherwise, the law provides for payment of legalization in installments up to 20 years, and the fee for the illegally constructed structures is determined by the local self-government that will be able to reduce the maximum term of 20 years.
Until now submit applications for the legalization of some 700,000 objects, according to the Republic Geodetic Authority of Serbia has a total of approximately 1.3 million unregistered buildings in the cadastre.
law provided extensive project documentation and property owners will have higher costs.
Local governments will upon the entry into force of the Act to establish criteria for determining compensation for land development and the conditions under which it will be achieved through reduction of the fee and method of payment.
Constitutional Court declared unconstitutional the section of the Law Planning and construction related to the legalization and future state will determine the price for the legalization of local government, and the new law, he said, the relevant Minister Velimir Ilic in accordance with the Constitution.
Municipalities will be able to prescribe a fee reduction for owners of family dwelling or dwelling unit in a residential or residential-office building, which is the construction or purchase of housing issue resolved permanently if the owner or members of his household have no other residential real estate.
Impairment charges provided for owners who have made ​​residential land with its own funds or funds from contribution, in proportion to the participation in the furnishing.
shall not be able to legalize buildings constructed or reconstructed in landslide or marshy land, if they are made ​​of materials that do not provide durability and safety of the facility, then the facility to public use areas or protected natural and cultural assets, those that are contrary to the planning document.
Ince for legalization should include a land survey, as-built design in three copies, proof of use of property or rental the construction land, or proof of ownership of the facility, then the evidence on the regulation of relations in payment of compensation for land development and proof of payment of administrative fees.
Source: svevesti.com/
Publisher: svevesti.com/