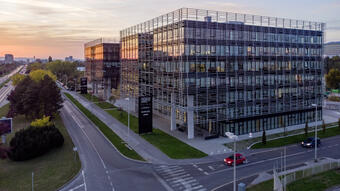 Matrix B, a part of the Matrix Office Park, offers approximately 10,500 square meters of leasable space and 213 parking spots. It is fully occupied by a diverse and internationally renowned tenant mix from various industries. Moreover, the building, which was completed in 2020, proudly boasts a LEED Platinum certification.
The acquisition of Matrix B by ALFI RE reflects Zagreb's growing appeal as an attractive investment destination. The vibrant capital city of Croatia has been witnessing a remarkable transformation in its real estate sector in recent years. Characterized by limited modern stock and historically low vacancy rates, Zagreb has proven to be a lucrative investment opportunity for regional investors.
Established in 2020, ALFI RE represents a strategic pillar within the larger ALFI Group, a conglomerate of alternative investment funds, focusing on a broad range of strategies, from distressed debt, private equity, and private debt, to real estate and renewable energy.
ALFI RE Fund's primary focus lies in the acquisition of premium commercial real estate assets, strategically targeting sectors such as retail parks and office buildings due to their income-generating potential, stability, and resilience in the face of market fluctuations. The hallmark of the fund's investment approach is its commitment to securing long-term lease agreements with high-quality tenants who have established businesses and a track record of meeting their lease obligations. Investing in such properties reduces the risk associated with tenant turnover and non-payment of rent.
ALFI RE is committed to identifying great opportunities in emerging markets and creating value for its investors. The Matrix B building, with its prime location, LEED Platinum certification, and diverse tenant mix, represents a premium asset that aligns perfectly with ALFI RE's strategic vision.
Source: Property-forum.eu